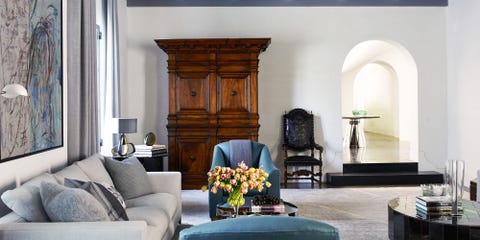 There are the designers we look to again and again — whose work we are always excited to feature. Each is distinctive. What unites them is their excellence. This year, we welcome four new members to this illustrious group.
Pick up the June 2016 issue of Elle Decor to see the rest of this year's A-List.

Ken Fulk calls his San Francisco studio the Magic Factory, and few would disagree. Whether transforming a Big Sur forest into a fairy-tale setting for tech titan Sean Parker's wedding or conjuring his own explorer-worthy home, complete with an eight-foot-tall giraffe trophy, he fashions otherworldly environments. This year brings a New York office, a book with Abrams, and a second product line for Pottery Barn. "We make crazy things happen," says Fulk, "which is wild and intoxicating." .
Pictured: The stairway of a San Francisco house designed by Ken Fulk.
David Mann, of New York's MR Architecture + Decor, conceives crisp, modern rooms invigorated by outstanding contemporary art and design. "My approach is simple and tailored, which allows important pieces to shine," he says. That curated point of view has made him a favorite among collectors as well as trendsetting fashion brands such as J. Mendel, Lanvin, and Trina Turk, all of whom have recruited Mann to bring his discerning eye and prodigious sense of proportion to their stores. .
Pictured: The living area of David Mann's Manhattan penthouse studio.
The husband and wife behind Maine Design met while working for Michael S. Smith, but they've developed a style of their own since setting up shop in 2007. "We aim to create spaces that are clean and quiet, but also impactful," says Katie. Choosing to fly below the radar, they are now at work on houses in Houston, the Hamptons, and Bel Air, California. But the secret's getting out—they recently opened Home House Co-Op in Los Angeles, which sells their furniture and vintage finds. .
Pictured: A Los Angeles living room designed by Jason and Katie Maine.
Beth Martin puts tremendous energy into making cozy interiors that feel effortless. "I love modernism, but I don't like spaces that try too hard," says the founder of San Francisco's Martin Group. "My work skews casual and bohemian." Her laid-back aesthetic, which frequently showcases a palette of neutrals juxtaposed with exotic stone and luxurious wall treatments, is generating a growing list of projects, from Bay Area homes to a house in Jackson Hole, Wyoming. .
Pictured: The living room of a Washington, D.C., home designed by Beth Martin.