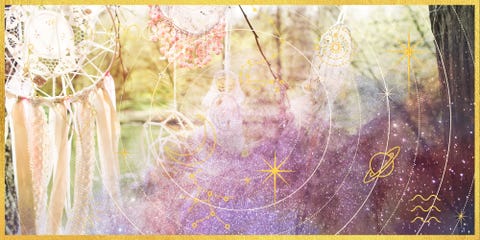 Your love story was written in the stars. Now it's time to seal your fate with new-age wedding decor that practically guarantees a happily ever after. From stars and moons to crystals and tarot cards, whimsical accents are easy to pepper throughout your entire ceremony.
The Invitations
Your invitation suite is the perfect opportunity to make a stellar first impression on your guests. This suite includes celestial touches on each element, tying the whole look together.
Constellation Wedding Invitations, $100

The Invitations
Whimsical and romantic, Minted's Starlight invitation suite features iconic constellations in glamorous metallic foil.
Minted Weddings, 234 for $100

The Dress
Twinkle and shine from every angle in Jenny Packham's Jolene gown. The embellished dress is the perfect mix of vintage charm and modern sophistication.
The Dress
Who says you have to wear white on your wedding day? It may be navy, but you'll be the star of the day in this Reem Acra gown.
Lena Dress, $198
The Jewelry
Think of Jennifer Behr's Sirene Turban as jewelry for your hair. The Swarovski crystal and pearl encrusted headband is the perfect finishing touch for your wedding day look. And the best part? You can wear it again after the wedding.
Jennifer Behr Sirene Turban, $575

The Decor
Even if you're not getting married outdoors, you can say "I do" under the stars with a hanging installation of celestial beauties.
Metal Star Banner, $18
The Decor
This charming moon pulls double-duty, acting as both decor and photo-booth backdrop for your wedding reception.
The Decor
Mix and match Moorish star lanterns for a design statement that's brimming with bohemian flair.
Aquila Star Lantern, $12.95

The Table Assignments
Practical and pretty, these agate card holders are perfect for your escort cards, table numbers or photographs, and are a favor your guests will actually want to bring home.
BHLDN Gilded Agate Card Holders, $12

The Table Assignments
Another option: scoop up assorted geodes and gems to keep escort cards from blowing away at an outdoor reception.
Aqua Crystal Buds, $1 each

The Table Assignments
Whether you use them to display table rosters or simply as hanging decor, these mirrored moons add just the right amount of whimsy and magic.
Round Glass Mirrors, $38.50 for 10
The Table Assignments
Marbled paper mimics a starry night sky, a subtle and sophisticated nod to your celestial theme.
Marbled place cards, prices vary

The Table Assignments
A California couple chose to repurpose a deck of tarot cards for guests, but take it one step further: Hire a tarot card or palm reader for your cocktail hour or reception as extra entertainment for your guests.
Tarot Card Deck, $23.11

The Flowers
Add a sense of richness to your wedding decor with flowers in moody hues like these ruby-red anemones and regal purple sweet peas.
The Decor
A beautiful wedding is all in the details, so continue your new-age theme all the way down to your table numbers.
Mini Geo Terrarium, $18
The Game
With a coat of paint and some creativity, cornhole goes from tailgate to cocktail hour without sacrificing any of the fun.
Custom Corn Toss, prices vary

The Glassware
Add another layer of depth to your reception tables with vintage glassware in a rich jewel tone. The mismatched goblets play up the bohemian nature of your aesthetic.
Case de Perrin Glasses, $3 each to rent

The Cake Topper
Make your wedding cake even sweeter with this charming vintage-inspired cake topper. The handmade accent is finished with a touch of silver and gold glitter to really shine.
Jolie en Rose Vintage Cake Topper, $39
The Cake Servers
Antique-inspired mercury glass handles turn these cake servers into a wedding keepsake you can use all the happy years of your marriage.
BHLDN Mercury Glass Cake Servers, $58

The Favor
Light a spark with a matchbox adorned with the 28 phases of the moon.
Studio Portmanteau Phases of the Moon Matchbox, $3
У нашей компании важный интернет-сайт со статьями про
alfaakb.com
.
Был найден мной нужный web-сайт с информацией про клининговые компании киев
http://1cs.com.ua