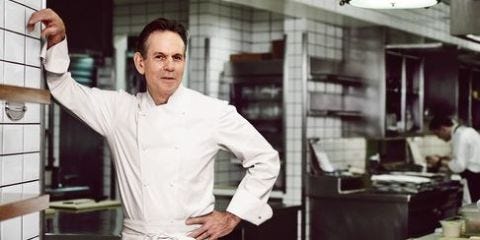 "Some of the most gratifying moments of my career are related to design," says Thomas Keller, the chef-owner behind many of America's most celebrated restaurants, including the French Laundry, Bouchon, and Per Se. Indeed, Keller—a stickler for detail who personally selects the particular shades of blue for his restaurants' doors—has collaborated on collections for Raynaud porcelain, All-Clad cookware, and Christofle silver. Meanwhile, on his home turf of Yountville, California, he has embarked on his biggest design project yet: an ultramodern expansion of the French Laundry, with a new kitchen and a garden, by cutting-edge firm Snøhetta, inspired by I.M. Pei's glass pyramid at the Louvre. "It's going to be just magical," Keller says.
"Principal Craig Dykers understands how the historic ."
" is master of the Venetian-inspired look, both elegant and casual. They custom-make my chef jackets."
" that is the epitome of the brand."
"I bought my first car, a 320i, in 1978, then restored it in 2007. It stays in my garage. Now my everyday car is a ."
"I find design inspiration in the timepieces of ."
"After 18 holes wearing the , I feel like I could walk another 36."
"Soft and dense rugs from the same Pennsylvania farm that supplies the found on our menus."
"The superior quality of lends itself to precision and control."
"; I wear them when I fly. I'm an evangelist."
"This is among the world's best."
"Good shoes are key to my ability to stay on my feet. I have at each of my restaurants."
"When we , chef Larbi Dahrouch, my friend, cooks us simple food. Simple is the hardest thing to do."