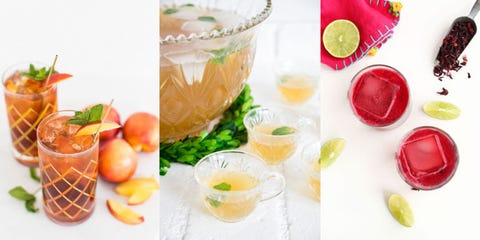 Whether hot toddies or iced tea are your thing, we've found 18 delicious, tea-infused cocktail recipes to enjoy throughout the year.
How do you make an Irish whiskey punch even more St. Patrick's Day appropriate? Stir in some green tea, of course.
Recipe:
This white rose tea martini—garnished with floral "confetti"—would be a beautiful addition to any brunch table this spring.
Recipe:

Treat your mom to a few of these Earl Grey-infused cocktails this Mother's Day.

Recipe:

Mi in a batch of hibiscus tea not only makes your margaritas even tastier, but also makes them HOT PINK. That's a win-win in our book.
Recipe:
Try this fresh take on the classic Southern cocktail this spring.
Recipe:
Made like a traditional hot toddy—with tea, honey, whiskey, and lemon—this cocktail is poured over ice cubes right before serving for a refreshing summer drink.
Recipe:
If peach iced tea is your go-to summer drink, then you've got to try this boozy version for happy hour.
Recipe:


This rum-spiked take on a classic Southern fruit tea recipe is easy to whip up for a crowd.
Recipe:
This mix of gin, prosecco, and iced green tea is just begging to be sipped on a porch this summer.
Recipe:
Once the weather cools off, switch over to this delicious blend of maple whiskey and chai tea.
Recipe:
Adapted from an antebellum recipe, this blend of black tea, rum, brandy, and lemon is one of the most popular drinks served at in Charleston, South Carolina today.
Recipe:
This recipe is unexpected, but so easy to make.
Recipe:
This cocktail is just as delicious warm as it is cold—adapt it as the weather changes.
Recipe:
This spicy blend of tea, rum, and blood oranges is just the thing to sip on a cold winter night.
Recipe:
Passion Fruit Green Tea Whiskey
Give your tea cocktail a tropical twist by mi in a bit of passion fruit.
Recipe:
This ruby red concoction of fruit juice, bubbly, and black tea simple syrup would make a festive holiday cocktail.
Recipe:
Branch out from your typical whiskey sour routine by adding a bit of chai syrup to the mix.
Recipe:
Whether you prefer rum or whiskey, this classic tea cocktail will keep you warm and cozy this winter.
Recipe:
Pin these recipes for later and for more follow ELLE DECOR on .