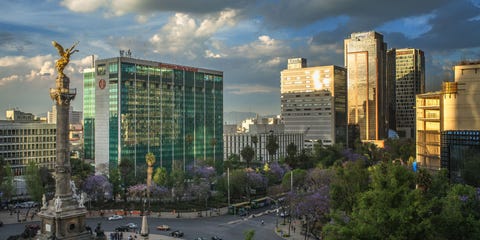 It's officially that time of year when everyone starts leaving the office early on Friday – duffels in tow.
And while we're very much in favor of taking a summer vacation, sometimes, you can only afford to go off the grid for a long weekend. Enter ELLE DECOR's guide to skipping town for a long weekend – so you can decide where you should stay and what you should do when you're short on time out of town.
First up: Mexico City. Filmmakers and artists have helped put the vibrant city on the map in recent years. Located on the verge of where the former Aztec empire meets cosmopolitan cultural spots, it's worth a spot on your travel bucket list for sure.
Av. 16 de Septiembre #82 Col. Centro,
alone. It's also home to one of the chicest rooftop bars in the city. And when prices clock in around $150 a night, it's pretty affordable, too.
Av. Juárez, Centro Histórico,
Design buffs will want to prioritize a trip to the Palacio de Bellas Artes. Construction began at the turn of the century, when architects were fascinated by Beaux Arts and Art Nouveau – but the project was halted during the Mexican Revolution. It was ultimately completed in 1934, in Art Deco style – and the result is nothing short of spectacular.
Londres 247, Del Carmen, Coyoacán,
.
Calle Francisco Petrarca 254,
Pujol reinterprets classic Mexican dishes to perfection at what many call the city's best restaurant, while hole-in-the-wall Tacos Hola (Av. Amsterdam 135) serves up vegetarian options to die for.