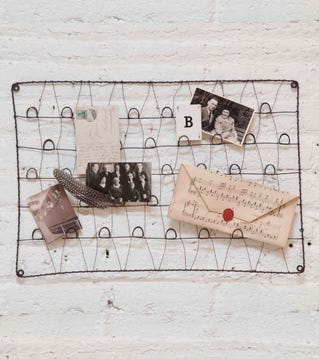 Photo: Courtesy of Jayson Home & Garden
Look at vintage photographs of writers, painters, and other artistic types and you'll often see a collage of postcards, snapshots, and handwritten letters hanging above their workspaces as a spur to creativity. Made of strong, antiqued wire artfully twisted into a pattern of small clips, Jayson Home and Garden's postcard holder can turn your scattered collection of memorabilia into an artistic inspiration board. But, if no bright ideas come to mind, never fear—it's also a handy place to post grocery lists, invitations, and other everyday flotsam.
Postcard holder, 23.5" w. x 16" h., $48; .